The City of Kingman's contamination rate for recyclables has dropped from 47% to less than 10% resulting in cost savings, but fleet maintenance costs on older garbage trucks is an issue still needing addressed. (Photo by Travis Rains/Miner)
Stories this photo appears in: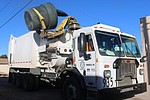 Garbage disposal fees in City of Kingman have stayed the same for more than a decade – $19.78 a month for residential customers with 90-gallon receptacles and twice-weekly service.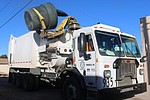 Mohave County Health Coalition to address physicians' shortage – That's good about MCC, and helping foreign students with paperwork.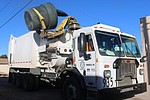 The changes made to the city's EZ Recycling program are already paying off, but financial hurdles remain for the Solid Waste Department, which is conducting a study which could result in an increase in garbage rates.