Former U.S. Sen. John McCain, left, poses for a photo with his family at the christening of the guided missile destroyer that carries his name in Bath, Maine, on Sept. 26, 1992. McCain's mother, Roberta McCain, second from left, died Monday, Oct. 12 at age 108. (Official U.S. Navy photo/Public domain)
Stories this photo appears in: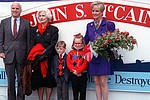 Roberta Wright McCain, the mother of the late Sen. John McCain who used her feisty spirit to help woo voters during his 2008 presidential campaign, has died.