Judge Amy Coney Barrett, second from right, stands with her family, President Donald Trump and First Lady Melania Trump at a ceremony announcing Barrett's nomination for a seat on the U.S. Supreme Court. Barrett, at a Senate hearing on Tuesday, Oct. 13, would not commit to recusing herself from disputes stemming from the upcoming election. (Official White House photo/Public domain)
Stories this photo appears in: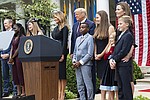 Supreme Court nominee Amy Coney Barrett is vowing to bring no "agenda" to the court, batting back senators' questions Tuesday on abortion, gun rights and the November election, insisting she would take a conservative approach to the law but decide cases as they come.
By MARK SHERMAN, LISA MASCARO and MARY CLARE JALONICK, Associated Press
October 13, 2020