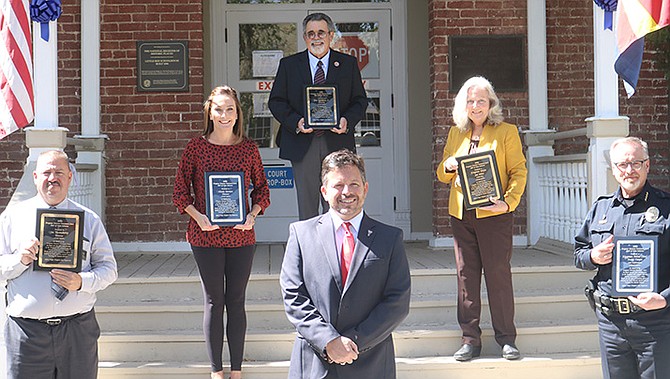 From left, Joe Throneberry, Alexis Stewart, Jim Consolato, Mayor Jen Miles and Kingman Police Department Chief Rusty Cooper pose with Kingman Municipal Court Judge Jeffrey Singer, front, following the Kingman Veterans Treatment Court Hall of Fame induction on Thursday, Sept. 24. Inducted but not pictured are Pat Farrell of the Jerry Ambrose Veterans Council and attorney Bryan Whitney. (Photo by Travis Rains/Kingman Miner)
Stories this photo appears in: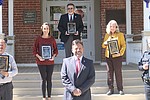 The Kingman Veterans Treatment Court has now graduated 53 veterans, and in honor of all the behind-the-scenes efforts by those affiliated with the program, inducted its first local hall of fame class on Thursday, Sept. 24.