The coronavirus will be the primary focus of Arizona Gov. Doug Ducey's annual State-of-the-State Address on Monday, Jan. 11. (File photo by Howard Fischer/For the Miner)
Stories this photo appears in: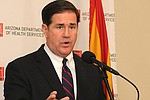 Arizona Gov. Doug Ducey has been focused for nine months on the coronavirus that has sickened more than a half-million Arizonans and killed nearly 10,000.