Airzona Gov. Doug Ducey delivered his annual State-of-the-State Address virtually on Monday, Jan. 11, 2021 due to the coronavirus. Ducey is shown making his 2020 speech. (File photo by Howard Fischer/For the Miner)
Stories this photo appears in: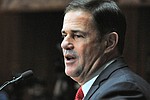 Schools that have shuttered because of the coronavirus must end virtual learning or lose funding, Arizona Gov. Doug Ducey said Monday in his annual state-of-the-state address that doubled down on his light-touch approach to managing the pandemic.
By BOB CHRISTIE and JONATHAN J. COOPER, Associated Press
January 12, 2021