The Trump administration on Tuesday said it won't reserve second doses of the Moderna and Pfizer COVID-19 vaccines for those who received the first shot in an attempt to get more people immunized. The hope is production will ramp up so that those who received their first dose will still receive a second dose on time. (Adobe image)
Stories this photo appears in: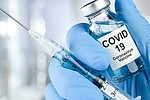 Barely a month into a mass vaccination campaign to stop the COVID-19 pandemic, the Trump administration unexpectedly shifted gears Tuesday to speed the delivery of shots.
By ZEKE MILLER and RICARDO ALONSO-ZALDIVAR, Associated Press
January 12, 2021