Kingman-area resident Jennie Kendrick captured this photograph of a dust storm on Sunday, July 25. There is a possibility of showers and thunderstorms Thursday through Monday, according to the National Weather Service. (Courtesy photo by Jennie Kendrick)
Stories this photo appears in: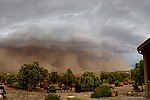 Mohave County Sheriff's Office Search and Rescue responded to a number of calls for help related to "swift waters" throughout Golden Valley as storms hit the area the evening of Sunday, July 25.