As a heat wave descends on the U.S. West, physicians are warning about the potential for serious burns from hot pavement. A cooling center is pictured. (Tdorante10, cc-by-sa-4.0, https://bit.ly/35ecRGM)
Stories this photo appears in: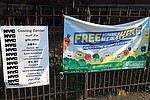 In the Southwest, the problem of burns from hot surfaces is growing as temperatures rise due to climate change and increasing urbanization.
By BOB CHRISTIE, Associated Press
June 15, 2021