A proposal under consideration by the Mohave County Board of Supervisors would raise the adult admission price to the Mohave County Fair by $2 to $12. Seniors would pay $6, up from $5. (Miner file photo)
Stories this photo appears in: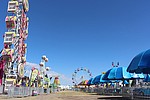 Admission costs for this year's Mohave County Fair would increase under a proposal from county public works officials.
By Brandon Messick, For the Miner
March 16, 2023