Recent Stories
A tradition that started in Philadelphia to honor fallen law enforcement officers and firefighters will continue in Kingman for a second year.
The Kingman resident and owner of Preston Investments has bought every ticket for the first two showings of the new Star Wars movie in Kingman.
Tony Trifiletti and Roger Clark of the passenger-rail advocacy group All Aboard Arizona brought their save-the-trains campaign to Kingman on Tuesday, Oct. 29.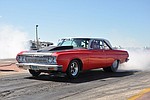 The Route 66 Kingman Street Drags, where the rubber both meets and heats the road, are back.