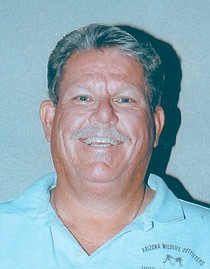 Don is a native Arizona resident who has spent his entire adult life (except for 2 years 9 months and 13 days in Uncle Sam's Army) pursuing his passion of enjoying the great outdoors of Arizona.
Don worked as a law enforcement officer for over 15-years after his stint in the U.S. Army. After an on-the-job injury forced his retirement from the law enforcement field, Don decided to start a business to help others who enjoyed the great outdoors as much as he did.
Working with his friend Larry Sallee, Don started Arizona Wildlife Outfitters in 1987 in Kingman.
Recent Stories

It is a fact that many times when we are in the field we meet others who are also doing the same thing we are: hunting.

This year the young lady again drew a youth javelina tag and a plan was made for her and Kenny to go hunting.

The Desert Archers, a local archery club, is hosting a two-day shoot.

Do you think that it part of fair chase to try and bring them in close?

Dillon and Kaitlyn Whittington are no strangers to javelina hunting, they have each has bagged three of these porkers.

One of those that drew a tag for the last hunt was 13-year old Kinsley Rupe.

These activities are part of a longstanding American tradition of being in the outdoors and sharing in the bounty that the Good Lord has provided for us.

I'm proud to be a part of the local sportsmen community.

Webster defines a volunteer as "one who does anything of his own free will."

The season for the last muzzleloader juniors' deer hunt in December for those under 18 years old has closed.