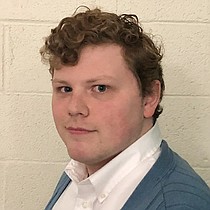 928-753-6397 Extension: 5253
Recent Stories
"I don't see a problem with parking your RV, boat, trailer, whatever, on your own property," said Vice Chair Terry Shores. "As long as it's on a designated area."

A random sample of 5 percent of signatures was forwarded to the Recorder's Office Aug. 2, which found an invalidity rate of 17.44 percent within the random sample. When applied to the total number of signatures, the initiative had 2,460 valid signatures, just 38 less than what was required to move the measure forward.

As a U.S. senator, Arpaio said he would be a voice for Republicans because he is a "real Republican."

"I have a high-profile case, and I feel that I don't have confidence in Ron Gilleo as far as defending me and looking out for my case," Nevitt told Sipe. "I'd ask that the court grant me effective counsel."

"We want the businesses to be compliant, that's our goal," Mansur said. "We're not trying to trick anybody."

The attic continues to grow and will now open a new annex at 4535 Roosevelt St., which is directly behind the nonprofit's main building at 2575 Northern Ave. and happens to house the office where the organization began.
"His name will still appear on the ballot, but at this time he is not a valid candidate," the City Clerk's Office informed the Daily Miner. "So votes for him will not be counted."
The City's Tourism Division presented a comprehensive overview of the Powerhouse Visitor Center's performance during Council's July 22 meeting, a presentation that prompted Councilman Travis Lingenfelter's request that staff return to Tuesday's meeting to hammer out addition details of Kingman tourism efforts.

There's nothing like reconnecting with an old friend and taking a stroll down memory lane, and for one Kingman man that joyous occasion led to the formation of The Wall Operation Pal Joey, an effort to send veterans to Washington, D.C., to visit the Vietnam Veterans Memorial.

MSTEPP is utilizing a five-step method to combat the opioid epidemic, the first of which is geared toward education and reducing the acquisition and diversion of prescription drugs.